Financing: When Location Doesn't Necessarily Matter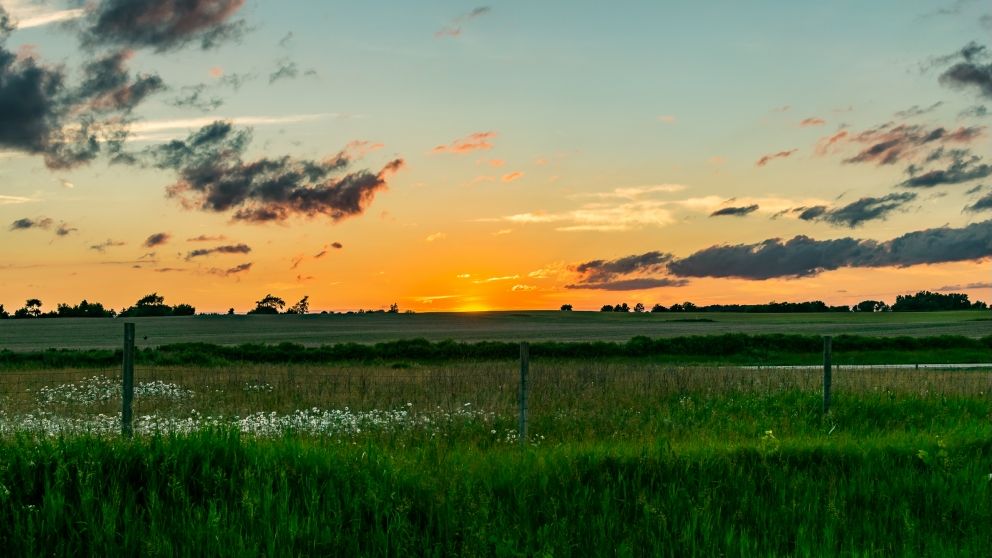 When Buyers Choose a Lender, Location Doesn't Factor In
Date: September 14, 2021
According to the LANDTHINK Pulse results, 55.9% of their audience indicated that if they were purchasing recreational land for sale, the location of the lender would not matter. When you decide to pull the trigger and buy recreational land, there are many decisions that need to be made: what area to buy in, determining a budget, which land agent you should use. Unless you are in a position to pay cash upfront, you will also need to decide on a lender to finance your land purchase. Lenders come in many types and sizes, offer different products and services, and have different ethical standards and levels of customer service. They also have varied knowledge and experience of the different types and uses for land. Depending on your needs, you could work with either a large lender, a local lender an online lender, or another type altogether.
Last month, the LANDTHINK Pulse posed the following question to our audience: If purchasing recreational land, where would you prefer your lender be located?
When it comes to choosing a lender, buyers today have more choices than ever. While the results of last month's survey indicated that the location of the lender had no bearing on a buyer's choice of lender, where you'll want to look for a land loan depends on what you want to do with the land. It's important that the lender you ultimately choose offers the type of loan you need as their normal course of business. Consider the following available options on where you can get a land loan. The answer for you may be different based upon your own needs. The different types of lenders include:
Big banks: Big banks are large, multi-billion dollar financial institutions that offer a wide range of financial products such as checking and savings, mortgages and bridge loans, credit cards, and some have investment banks that trade bonds and securities as well. Examples of big bank mortgage lenders include Bank of America, Chase, and Citibank. Big banks are movers and shakers, which can translate into your land loan not getting the attention it deserves.
Local banks: Local (or community) banks cater to a smaller clientele, but typically only offer a basic range of business services. Most community and regional banks offer mortgages, but these can sometimes be confined to a specific service area. Another upside is that smaller lenders live off your future business, so they usually offer you a more personal touch.
Credit unions/institutions: In some cases, credit unions can offer fewer fees and lower rates than big banks. Farm Credit institutions offer lending solutions for farmers and ranchers and can help with financing land to grow crops, improve, or expand current operations, or increase agricultural productivity. They know the local real estate market and can better assess the value of the land and its potential. What differentiates Farm Credit and from other lenders is its borrower-owned structure. Farm Credit customers purchase stock in their lending cooperatives and may earn patronage dividends if their loans stay in the lender's portfolio.
Online lenders: Online mortgage lenders don't have extensive overhead costs, which often translates to more affordably priced loans. They can pass on those savings to customers in the form of lower rates and fewer fees. An online mortgage lender allows you to progress through the loan application process quickly, usually with an entirely (or almost entirely) digital experience. This can be especially valuable today when in-person contact is being minimized.
There is a popular belief that a lender, and for that matter all the service providers to a land transaction, needs to be local. While choosing a lender that is local to the property certainly has its advantages, the mortgage process steps are the same no matter where the lender is located. Some online lenders who are seated all over the country will fund certain types of land loans. If a land buyer finds a lender that happens to be located somewhere other than where the property is located in, it does not automatically mean they can't get the job done. It will require more vetting, but it does not mean that the non-local lender should automatically be ruled out.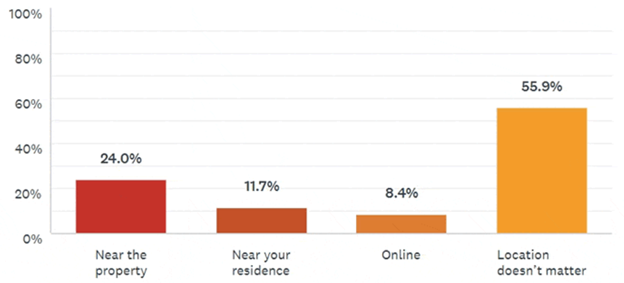 Coming in second, 24.0% of respondents said they would prefer for their lender to be located near the property. Lenders located near the property are familiar with local market conditions, probably know your land agent personally, and could even have had experience with the seller involved in the transaction as well. They will factor all this information into your loan approval.
All of this can be a tremendous advantage to a land buyer and can also take a lot of guesswork and legwork out of the equation. Local lenders are a virtual encyclopedia of information on local agents, attorneys, and neighborhoods and often have very specific knowledge of land prices and values as well as financial data that lenders in other areas may not. Farm Credit institutions typically finance a higher percentage of the value of the property than big banks, offer lower interest rates, and have programs tailored specifically to the land market. Farm Credit lenders are familiar with the value of recreational land, timberland, and livestock.
At the end of the day, choosing the lender and the loan type that best suits your needs is all about knowing and understanding all your options. Lenders, banks, and other financial institutions all come with their own benefits and drawbacks. Be sure to shop around with a few different lenders to get a clear picture of the financing solutions that are available to you. Get quotes from several different lenders, banks, and organizations, and compare the rates, fees, and closing costs required by each.
Remember, when you set out to secure a land loan, it helps to have a strong buyer profile — the same as when buying a home. Keep your credit score up, your debt-to-income ratio down, and have the means for a healthy down payment.
If you are interested in exploring an auction, please allow Target Auction Company to detail the benefits of an auction platform and provide you with a free consultation. We can offer the information and advice needed to make a logical business decision regarding the sale of your property. We can be reached at 1-800-476-3939 and visit us at www.TargetAuction.com.
---