Results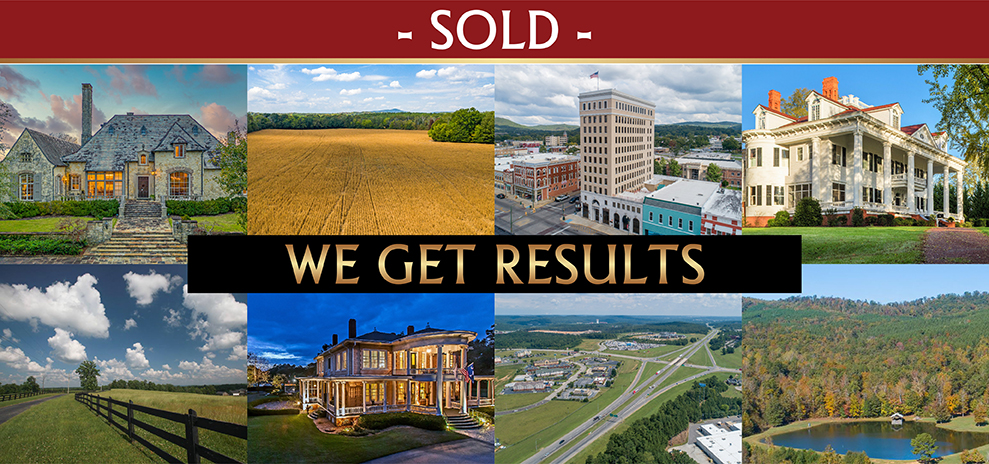 Target Auction provides unparalleled service. Our selling & closing ratio is one of the best in the real estate industry.
How Do I Get Results for My Property?
Custom Waterfront Home on Beautiful Weiss Lake, Cedar Bluff, Alabama
SOLD! This deep-water lakefront home was never on the market and instead, our sellers chose to go directly to auction. Our campaign garnered 66 inquiries from 11 states which yielded 17 qualified registered bidders from 6 states. Ultimately, our far-reaching marketing push produced great results for our clients and allowed them to relocate closer to their grandchildren. 
---
Kent Rock Manor: Luxury Estate/Event Venue on 50± Acres, Atlanta Area, Georgia
SOLD!  Kent Rock Manor truly offers endless possibilities and is ideal for a premier event venue, a luxury residence, a family/corporate retreat, a film production site, or for the sports/auto enthusiast. This exceptional estate was made famous by the CW series, Legacies as the Salvatore Boarding School, and was featured on MTV's Teen Cribs. This extensive marketing campaign garnered an astounding 308 inquiries from 31 states (plus 2 Canadian provinces) which included celebrities, professional athletes, and international interest.
---
Luxury Home in Searcy, Arkansas
SOLD!  This beautiful luxury home is set up for entertaining and positioned perfectly in the ever-so charming city of Searcy. Interested buyers from 8 states were drawn to this property through our advertising campaign. Prior to our involvement, the property had only recieved 3 tours in over 8 months. Once the auction promotion started, we had 23 tours in a 2 week period! This property sold for 141% of a recent appraisal which further demonstrates that our platform will generate top market value in only 60 days!  
---
"Glendale Farm" 230± Acre Paradise in Trussville, Alabama
SOLD! This was the second successful auction we held for this seller. "Glendale Farm" had been in the family for decades and never been on the market. Our method of marketing proves, once again, it forces buyers to act...and in this case, selling before the auction for 133% of the target price. The seller was extremely pleased with the outcome and their property achieved TOP market price exceeding their expectations.
---
Luxury Hilltop Home on 120± Acres with Panoramic Views, Heber Springs, Arkansas
SOLD! Here's another success story with this beautiful custom built home offering excellent views perched atop 120± acres with all the amenities! With any property, the BIG real estate question is always "how to price the property?" without overpricing or underpricing it. The answer is to sell with a highly visible and professional auction platform. The property receives increased exposure with fewer days on the market, achieving full market price while buyers compete for ownership. An auction is a win for both sellers and buyers.
---
Windy Hill - A French Normandy-Inspired Masterpiece on 124± Acres in Columbus, Mississippi
SOLD!  The Imes family estate is considered one of the finest and most quality constructed homes in the South. This fabulous property had no comparables and had never been on the market. Therefore, the Sellers elected for the auction method of sale to determine the most accurate and current value. The response for this luxury property was tremendous; 37 qualified prospective bidders from coast to coast toured the home in preparation of the online auction sale. The Sellers were blown away by the activity and most satisfied with the sales price. The winning bidder was 2,500 miles away and was drawn to the property as a result of our high-profile and visible marketing campaign.
---
Lakefront Home with Boathouse on Weiss Lake in Cedar Bluff, Alabama
SOLD!  This seller came straight to Target Auction Company after seeing our results firsthand. He appreciated the fact that he could have his home sold within 60 days for top market value. As a bonus, he was able to control the terms of sale and do so without contingencies. The market responded so strongly that an out of state bidder made an offer that was too good for the seller to pass up. 
---
Abingdon Manor Inn & Restaurant in Latta (Florence), South Carolina
SOLD!  Another west-coast buyer steps up to purchase this special-use property. The Abingdon Manor Inn & Restaurant is a successful & historic bed and breakfast and is a favorite among east coast travelers. As a result of our efforts, full asking price was achieved and the sellers were able to close this chapter. The purchaser was equally pleased for the opportunity to acquire this investment and relocate. 
---
569± Acres with Scenic Views of Lake Guntersville - Marshall County, Alabama
SOLD!  This was a rare opportunity to own 569 acres overlooking beautiful Lake Guntersville. This was a prime recreational tract with future development potential which garnered a high level of interest. Large land tracts are an ideal candidate for our auction platform. As a result of our marketing, these types of properties typically generate more interest because of nationwide exposure and a date driven call to action.
---
Absolute Auction: 96± Acres in Morgan County, Alabama
SOLD!  This recreational paradise consisted of open pastures, mature hardwoods, cascading creek and abundant wildlife. To attest to the demand for this type of property, 69 registered bidders from 18 states competed for ownership. These repeat sellers are again pleased with the results of this land sale. What better way to determine the real market value for your desirable property!
---
Premier Home on 153± Acres Only 40 Miles to the Beaches located in Ponce de Leon, Florida
SOLD! A beautiful custom home and picturesque land combine to create an outdoor enthusiast's dream property close to the beaches in the Florida Panhandle. This farm offered agricultural and recreational uses which added to the desirability for the winning bidder. The Sellers were unable to move forward with their plans before our involvement because previous efforts were unable to locate the buyer and create action.
---
Never Say Never Farm - A 33± Acre Equestrian Property with Home Near Huntsville in Elkmont, Alabama
SOLD!  We had 58 registered bidders from 10 states as well as an international participant for this 33 acre equestrian property. Thank you to everyone who toured the property (70 groups total) and took part in this successful event. 
---
TVA Industrial Warehouse Building on 3.48± Acres in Knoxville, Tennessee
SOLD! True market value was achieved with bidding topping over twice the appraised value for this industrial warehouse building just off I-640. Competition was fierce for this property.  
---
Meyer's Creek Ranch - 200± Acres and Custom Home in Bonnerdale, Arkansas
This home on 200± acres located just outside Hot Springs, "Meyers Creek Ranch" is a private playground to hunt, fish and relax. The benefits of dividing a property include engaging additional buyers and reaching true market value.
---
Friendly Hills - Historic Home on 17± Acres in Tryon, North Carolina
SOLD!  Unique and specialty properties such as this historic estate in the Blue Ridge Mountains are ideal candidates for an auction marketing campaign. We are able to generate buyers for one of a kind luxury properties by utilizing specifically tailored marketing campaigns, as we did for this North Carolina home.
---