Results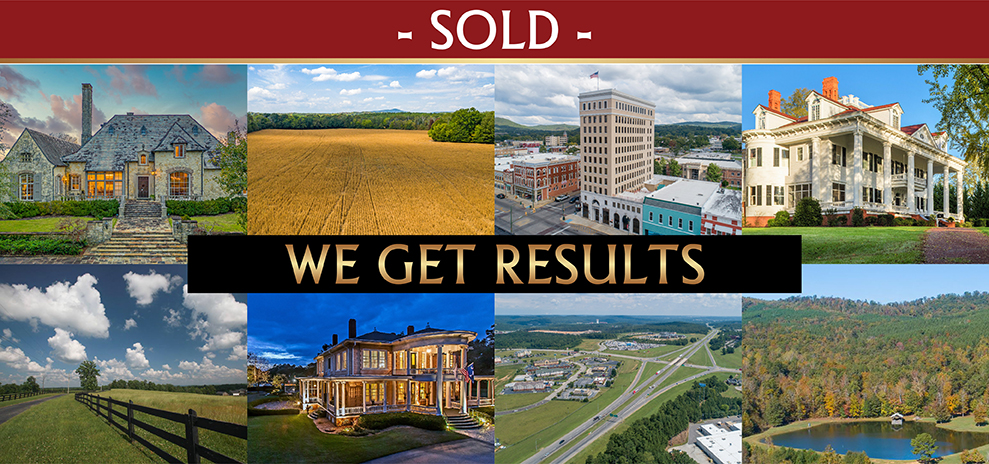 Target Auction provides unparalleled service. Our selling & closing ratio is one of the best in the real estate industry.
How Do I Get Results for My Property?
492± Acres at Inland Lake Springville, Alabama
SOLD!  A recreational paradise or potential development consisting of 492± acres & over a half mile along Inland Lake. The urgency created by the auction campaign caused a government municipality to step up and purchase. Our properties are sold for top market value with the seller in control of the timing.  
---
Twelve Oaks, The Inspiration for Ashley Wilkes's Mansion in Gone with the Wind, Covington, Georgia
SOLD!  This was a once in a lifetime opportunity to own one of the finest and most famous historic mansions in the United States. The marketing and press coverage on this auction generated inquiries from 3 countries and 37 states which included celebrities, CEO's and affluent individuals. Good Morning America, The Today Show, Fox News as well as all major media covered this event. As a result we had over 100,000 visitors to our website. "We hope to continue to bring business and awareness to the great city of Covington while upholding the highest standards of the Twelve Oaks tradition," said Purchaser.
---
Contemporary Masterpiece in Kalamazoo, Michigan
SOLD!  Stunning contemporary luxury home in Kalamazoo. The property pre-views leading up to the sale were approaching 50, with the home selling for 110% of appraisal. "Target achieved a higher price than we expected and sold my property quickly. Can't thank you enough, we are very happy." – Seller. Thank you to RE/MAX Perrett Associates Inc. in working with us on this successful event.
---
"Two Dreams" - A Fly-In Luxury Estate with Private Hangar on 26.43± Acres in Shelbyville, Tennessee
SOLD!  This stunning mediterranean villa with private hangar was located in a fly-in airpark community. The auction was successful and allowed the seller to move forward with the next chapter in life. The west-coast purchaser became aware of the property as a result of our highly visible marketing campaign. Target was able to generate another win for both buyer and seller.
---
Luxury Estate in Dania Beach / Ft. Lauderdale, Florida
Sold!  Wow what a response for this luxury home! 28 bidders from 9 states participated in this auction and our seller was more than pleased with the results. The online bidding exceeded a recent appraisal and far exceeded our seller's reserve. 5 brokers also brought participating clients to the event making this property auction a huge success. There is no better way to reach full market value for your property while controlling the time frame!
---
Cattle Farm with Development Potential in Tennessee
SOLD!  We had a HUGE response to the auction marketing campaign, 97 prospects from 14 states and Ontario did due diligence in advance of the auction. 32 prospects from 6 states and Ontario were registered bidders. 5 brokers brought bidders to the table. The only process for achieving this level of interest for real estate is through a professional auction.  The end result – true market value for this 250-acre premier cattle farm. The property was offered as an entirety and sold for 99% of a current appraisal.     "I am very grateful, everything went great", Seller.     "Thank you! You were extremely diligent, patient, and certainly very professional to work with", listing broker Lara Kirby, Kirby Group – Village Real Estate.
---
Lake Heather Waterfront Estate, Hoover, Shelby County, AL
SOLD! This spectacular luxury home had limited interest prior to the seller contacting us to sell at auction. The strength of our marketing campaign produced over 41 prospective bidders for this waterfront property. This was bought by an out of state purchaser who had not been exposed to the property previously.
---
Luxury Mountain Home in North Carolina
SOLD! Luxury mountain home in the Bright's Creek Subdivision, Mill Spring, NC with breathtaking views of the Blue Ridge Mountains. This was the second luxury property we sold for this client, both were very successful. High-end custom homes are ideal candidates for a non distressed auction. Having a pre-determined sale date allows the seller the flexibility of making plans without being handicapped by unknown timelines.
---
Private Gated Estate in Atlanta, GA
SOLD!  This luxury estate sold and closed, we have a very pleased seller as well as a happy purchaser! With several homes for sale in the community, the auction marketing campaign set this home apart from the others. Both parties liked the transparency of our process with all specifics of the transaction known upfront. Target was pleased to work with Beacham & Company, Realtors; one of Atlanta's elite brokerage firms, as the listing agent. Haus Real Estate Group represented the celebrity purchaser. "I am so thrilled with our new place and it would not have happened without you guys!  Will be forever grateful. Thank you!" E. House, Seller
---
Buckhead Estate
SOLD!   Buckhead / Atlanta GA – The reach of Target's marketing program with the power of a date-certain event sold another luxury home, this one for $2.75 million. The eventual purchaser heard about the property as they were leaving the country for 2 weeks. After returning from the trip, they got busy touring the home and doing their due diligence. Ultimately, obtaining the property at the auction. All in just a matter of days. The buyer was one of approximately 60 that toured the property in advance. This will be their primary residence and were most pleased with the purchase. The seller is very satisfied with the outcome, as well, stating, "You did a great job and I'll recommend you to others! We are so glad to have the property sold and behind us. Not only because of the cost of maintenance, but also the burden and stress created with keeping it up being an absentee owner." Target was pleased to work with the listing company who is one of the leading luxury brokers in Buckhead. "You guys are very pleasant and professional". - Glennis Beacham, Beacham & Company, Realtors. Also, the purchasers were represented by an agent from  Harry Norman, Realtors who said, "There have been a few auctions in Buckhead but none like Target Auction does, you out-performed them all".
---
Luxury Brow Home on 95± Acres in Jackson County, (Section), AL
SOLD! Custom Brow Home and 95 Acres:  "Target Auction is an incredible company with extremely efficient and professional personnel. They were able to successfully sell my luxury brow home in a remote area which had been on the market for years. I was thoroughly excited and overwhelmed by the price that I received and with the turnout of people to the auction. Great result!" - Seller, Carolyn Wall. This manicured property overlooking the Tennessee River produced a tremendous response with 38 tours and registered bidders. Results are what our seller wanted and results were achieved!  Auction day brought in 65+ in attendance with this beautiful estate bringing more than the asking price, and a smooth closing in less than 30 days with both the Seller and Purchasers being extremely pleased. This sale is a testament to the power of Target's marketing and proactive efforts in selling valuable real-estate.  
---
Coffey Farm. Oneida, TN
SOLD!  When you imagine a beautiful Tennessee farm, this is the picture that comes to mind, it featured rolling hills, lakes and ponds, and a beautiful luxury residence. What a successful event, with 300 registered bidders in attendance and another 200 bidders online!! We sold 47 tracts to 19 different buyers for $3.4 million and demonstrates that we are the real estate marketing specialists. The auction format is the only way to achieve this level of results. There are many benefits to buyers and sellers with our process.
---
Bishops Hall: Luxury Estate / Premier B&B in Oak Park (Chicago), Illinois
SOLD!  This premiere estate in the heart of the Historic District of Oak Park was ideally located on a quiet tree-lined street within walking distance of shops, restaurants and Frank Lloyd Wright and Ernest Hemingway historical sites. This historic renovated Georgian Revival home was an extraordinary private residence and was also an operating luxury B&B. Target was pleased to work with Baird & Warner Real Estate, one of IL largest family-owned real estate companies, on this extraordinary property. 
---
Orange Beach Waterfront Estate
SOLD!  Orange Beach, AL - This beautiful bayside estate is a prime example of the results Target Auction achieves for its clients with luxury real estate. A price of $3.2 million met the seller's goals and they were very excited with these results. Over 60 potential bidders representing 14 states toured the property.
---
Oceanfront Home / Mid-Coast Maine
SOLD!  This waterfront property generated tremendous activity! The open houses were very active with prospective buyers which resulted in 10 bidders from 7 states across the country. The seller was pleased with all aspects and was glad he chose us to sell his home at auction. We got results when no one else did and the property sold for more than double the reserve price which proves that auction marketing works.
---