Results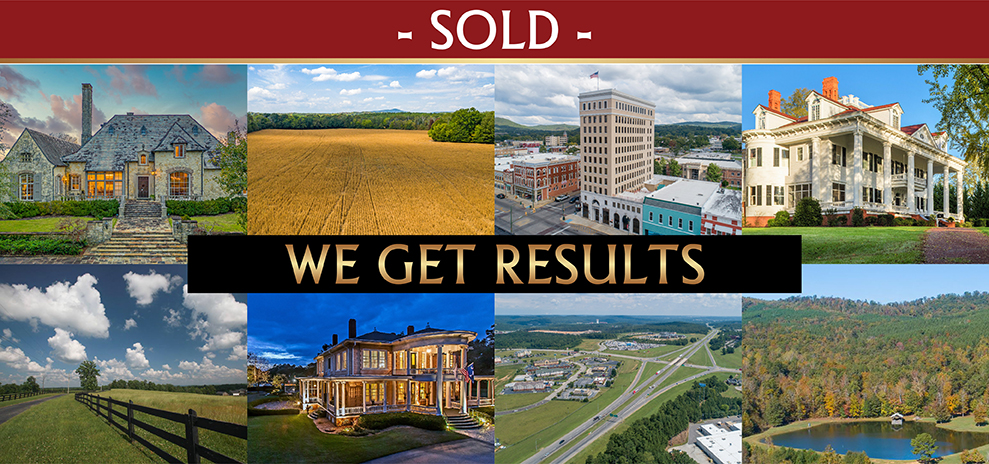 Target Auction provides unparalleled service. Our selling & closing ratio is one of the best in the real estate industry.
How Do I Get Results for My Property?
Never Say Never Farm - A 33± Acre Equestrian Property with Home Near Huntsville in Elkmont, Alabama
SOLD!  We had 58 registered bidders from 10 states as well as an international participant for this 33 acre equestrian property. Thank you to everyone who toured the property (70 groups total) and took part in this successful event. 
---
TVA Industrial Warehouse Building on 3.48± Acres in Knoxville, Tennessee
SOLD! True market value was achieved with bidding topping over twice the appraised value for this industrial warehouse building just off I-640. Competition was fierce for this property.  
---
Meyer's Creek Ranch - 200± Acres and Custom Home in Bonnerdale, Arkansas
This home on 200± acres located just outside Hot Springs, "Meyers Creek Ranch" is a private playground to hunt, fish and relax. The benefits of dividing a property include engaging additional buyers and reaching true market value.
---
Friendly Hills - Historic Home on 17± Acres in Tryon, North Carolina
SOLD!  Unique and specialty properties such as this historic estate in the Blue Ridge Mountains are ideal candidates for an auction marketing campaign. We are able to generate buyers for one of a kind luxury properties by utilizing specifically tailored marketing campaigns, as we did for this North Carolina home.
---
Evergreen Multi-Property Commercial Event
SOLD!  Another very successful commercial real estate sale! 100% SELL-OUT with fourteen properties sold for cash with bidders competing from several states, all closed within 30 days and several much quicker. The activity generated came from as far as CA to VA up to IN. This was a win-win for our seller as well as the buyers, everyone was satisfied. The ability to sale this many properties at one time in a difficult market place was very exciting to our client. "I'm glad I made the decision to use Target, this is my second sale with them this year and I am pleased"  states our seller, "I will use them again."  
---
432± Recreational Acres in Resaca, Georgia
SOLD!  432± recreational acres in Gordon & Whitfield Counties, Georgia. One of the benefits in selling land at auction is the ability to offer a property in individual parcels as well as an entirety. Our platform allows bidders to customize the way they purchase which ensures our seller the highest possible price. This beautiful tract of land on the Conasauga River drew interest from coast to coast. "I have been VERY impressed with you and your company, Jeff.  If you ever need a reference, please feel free to use me."- Seller
---
"Tennessee's Largest Home", Villa Collina, an Exquisite Waterfront Estate on 8 Acres in Knoxville, Tennessee
SOLD! Located on 8 manicured acres along the banks of the Tennessee River, Villa Collina is a spectacular estate offering both water and Smoky Mountain views, is built in the Italianate tradition with master craftsmanship, is over 40,000 SF of stunning architecture, and conveys surprise and intrigue around every corner!
---
492± Acres at Inland Lake Springville, Alabama
SOLD!  A recreational paradise or potential development consisting of 492± acres & over a half mile along Inland Lake. The urgency created by the auction campaign caused a government municipality to step up and purchase. Our properties are sold for top market value with the seller in control of the timing.  
---
Twelve Oaks, The Inspiration for Ashley Wilkes's Mansion in Gone with the Wind, Covington, Georgia
SOLD!  This was a once in a lifetime opportunity to own one of the finest and most famous historic mansions in the United States. The marketing and press coverage on this auction generated inquiries from 3 countries and 37 states which included celebrities, CEO's and affluent individuals. Good Morning America, The Today Show, Fox News as well as all major media covered this event. As a result we had over 100,000 visitors to our website. "We hope to continue to bring business and awareness to the great city of Covington while upholding the highest standards of the Twelve Oaks tradition," said Purchaser.
---
Contemporary Masterpiece in Kalamazoo, Michigan
SOLD!  Stunning contemporary luxury home in Kalamazoo. The property pre-views leading up to the sale were approaching 50, with the home selling for 110% of appraisal. "Target achieved a higher price than we expected and sold my property quickly. Can't thank you enough, we are very happy." – Seller. Thank you to RE/MAX Perrett Associates Inc. in working with us on this successful event.
---
"Two Dreams" - A Fly-In Luxury Estate with Private Hangar on 26.43± Acres in Shelbyville, Tennessee
SOLD!  This stunning mediterranean villa with private hangar was located in a fly-in airpark community. The auction was successful and allowed the seller to move forward with the next chapter in life. The west-coast purchaser became aware of the property as a result of our highly visible marketing campaign. Target was able to generate another win for both buyer and seller.
---
Luxury Estate in Dania Beach / Ft. Lauderdale, Florida
Sold!  Wow what a response for this luxury home! 28 bidders from 9 states participated in this auction and our seller was more than pleased with the results. The online bidding exceeded a recent appraisal and far exceeded our seller's reserve. 5 brokers also brought participating clients to the event making this property auction a huge success. There is no better way to reach full market value for your property while controlling the time frame!
---
Cattle Farm with Development Potential in Tennessee
SOLD!  We had a HUGE response to the auction marketing campaign, 97 prospects from 14 states and Ontario did due diligence in advance of the auction. 32 prospects from 6 states and Ontario were registered bidders. 5 brokers brought bidders to the table. The only process for achieving this level of interest for real estate is through a professional auction.  The end result – true market value for this 250-acre premier cattle farm. The property was offered as an entirety and sold for 99% of a current appraisal.     "I am very grateful, everything went great", Seller.     "Thank you! You were extremely diligent, patient, and certainly very professional to work with", listing broker Lara Kirby, Kirby Group – Village Real Estate.
---
Lake Heather Waterfront Estate, Hoover, Shelby County, AL
SOLD! This spectacular luxury home had limited interest prior to the seller contacting us to sell at auction. The strength of our marketing campaign produced over 41 prospective bidders for this waterfront property. This was bought by an out of state purchaser who had not been exposed to the property previously.
---
Luxury Mountain Home in North Carolina
SOLD! Luxury mountain home in the Bright's Creek Subdivision, Mill Spring, NC with breathtaking views of the Blue Ridge Mountains. This was the second luxury property we sold for this client, both were very successful. High-end custom homes are ideal candidates for a non distressed auction. Having a pre-determined sale date allows the seller the flexibility of making plans without being handicapped by unknown timelines.
---