Results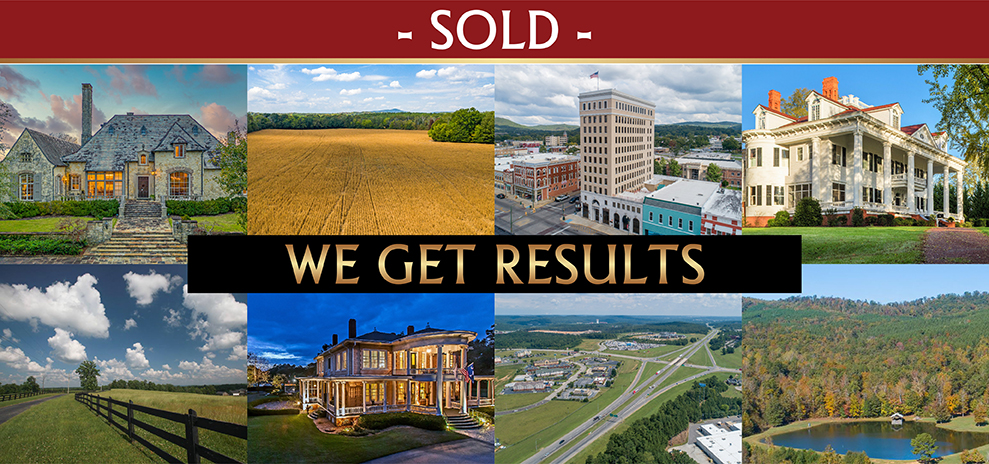 Target Auction provides unparalleled service. Our selling & closing ratio is one of the best in the real estate industry.
How Do I Get Results for My Property?
Lakefront European Masterpiece
SOLD! Luxury home sold for $2.125 million. With only 8 lookers prior to our involvement, Target had 70 groups tour the property during our open house events. This is a testament to the power of a date-certain event! The sellers are very pleased with all aspects of the Target Auction Company process, especially the price which exceeded their expectations. When attempting to sell your luxury home, what will seperate you from all the others? A highly visible multi-channel auction marketing campaign will deliver the desired results.
---
12± Acres in Madison, Alabama
SOLD!  In a red-hot market there is no better way to achieve the maximum price than an auction. This absolute auction was a huge success and far exceeded the seller's expectations. This offering brought in multiple buyer profiles that competed strongly to purchase. 27 bidders participated and as a result of the price achieved, the seller chose Target to market other high-end real estate.
---
Rainbow Manor Wedding Chapel in Rainbow City, Alabama
SOLD! The sale of this beautiful property offers a new life for both the buyers, who are excited to start their new business, and the sellers, who are moving on to their next big adventure, retirement.
---
44± Acre Commercial/Industrial Property in Lincoln, Alabama
SOLD!  This invesment property has been sold in advance of the auction. Thank you to buyer and seller; both are pleased with the transaction.
---
Residential Home on 3.12± Acres - Gadsden, Alabama
SOLD!  A Florida purchaser stepped up and outbid everyone else to make this her new primary residence. Residential homes in this price range always garner maximum value because of end user demand as well as investor competition. Auctions are effective for all price level homes.
---
43± Acres of Development / Recreational Land in Trussville, Alabama
SOLD!  Real estate that is inherited is ideal for auction because of speed, certainty and is fair to all who are involved. Get the maximum price and do so on your timeline and terms. 
---
Waterfront Home on Weiss Lake in Cedar Bluff, Alabama
SOLD! We had tremendous activity on this brick colonial waterfront home on Weiss Lake. The Seller is exceptionally pleased with the results as the final bid exceeded the asking price. Our campaign attracted national activity with inquiries from 12 states and  28 qualified bidders from 8 states competing for this home. Let's take advantage of potential buyers moving out of bigger cities.
---
ABSOLUTE AUCTION: Investment Opportunity at Noccalula Falls Park, Gadsden, Alabama
SOLD!  33 Bidders from 5 states competed for this investment opportunity. The price acheived was 106% of the seller's financial goal.
---
15 Income Producing Properties in South Florida
SOLD! 15 residential investment properties in Miami-Dade and Broward counties FL. The targeted marketing campaign did exactly what was intended, producing nationwide interest! We had 57 registered bidders from 10 states and Brazil as a result of the multi-faceted advertising effort. The seller chose Target Auction Company because his goal was to achieve true market value in a timely manner. These non-distressed properties had not been for sale previously and were located in a hot market. So there's not a better platform than an auction to realize a property's full potential. With this many properties being sold at one time there were a lot of moving parts and many details. The seller stated that Target was organized and detailed handling the entire transaction with integrity. Needless to say, the seller was very satisfied with the results while the purchaser is pleased having already discussed buying from us again.
---
0.53± Acre Lot in Murfreesboro, Tennessee
SOLD! This is a repeat seller for Target Auction Company who recognizes the value of using our highly visible auction platform. This is a commercial / industrial real estate entity that uses auctions as their primary sales method. The purchaser closed on this property only 2 days after bidding concluded. 
---
Event Venue/Premier Residence in Springville, Alabama
SOLD! Mountain View Gardens: This custom residence and established event venue sold to an out of state buyer and is another example of our turn-key process for selling valuable real estate.
---
615± Acres - Shoal Creek Valley (Ashville), Alabama
SOLD!  We had nationwide interest for this 615± acre recreational property (from Oregon to the Florida Keys) garnering bidders from 4 states. Each bid placed from the comfort of the bidder's own personal space. Online Auctions - the safest and most efficient selling process available. "It was a pleasure working with Target Auction on the sale of our acreage, they are the premier real estate auction company. Their marketing was very professional and we had bidders from several different states. We liked the online auction and considered it a complete success." - Seller  
---
Prime Development Land Tract just off I-75 in Emerson, Georgia
SOLD!  This was a win-win for both buyer and seller because of the transparency of our process with the added benefit of all terms known in advance of the sale. The auction process allows the sale of property without contingencies and a known closing date. With all of the benefits of auction marketing, everyone should be considering this method to sell thier valuable real estate. 
---
Industrial Warehouse Building in Knoxville, Tennessee
SOLD! An end user buyer was the successful bidder on this industrial building and he closed the transaction within a matter of days. This was TVA's first venture into the online auction platform and it was very successful. These types of properties thrive in an online auction scenario because bidders are not limited by geography, auction marketing works. "You can add another success to your achievements. We are very pleased." - Seller      
---
3 Commercial Properties in Evergreen, Alabama
SOLD!  Complete sell-out of 3 commercial properties! The power of the absolute auction was on full display by producing 22 registered bidders from 6 states. We offered live and online bidding options resulting in 10 live bidders and 12 online. Nationwide active bidders came from NJ, CA, FL, TX, TN, and AL. Our proactive efforts combined with many years of experience is the only way to achieve this type of results. This repeat seller continues to choose Target Auction for his buying and selling needs because of the transparent and streamlined process. It's a win-win for both sides of the transaction. 
---