Results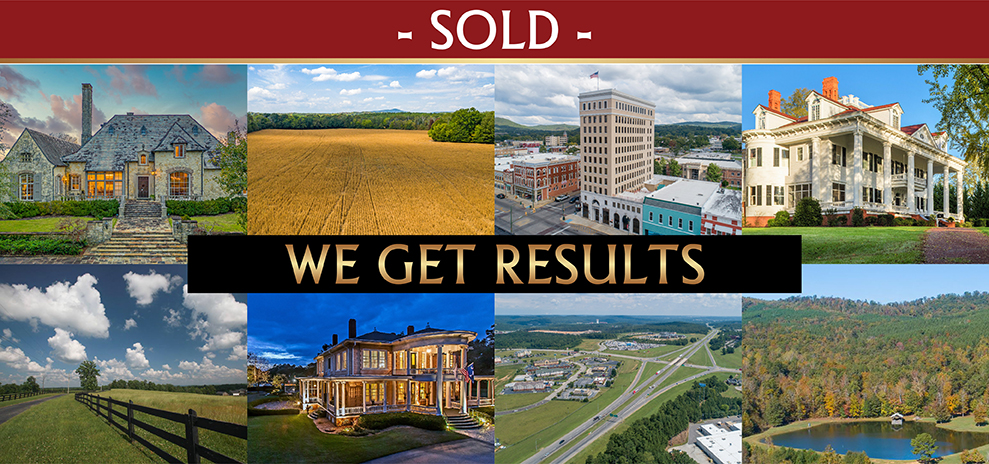 Target Auction provides unparalleled service. Our selling & closing ratio is one of the best in the real estate industry.
How Do I Get Results for My Property?
Vestavia 10 Acre Luxury Estate
SOLD. After an extended length of time using the traditional selling method, our Seller needed the time-sensitive date that only an auction provides to achieve his goals. He was very pleased with the outcome; selling for $1,045,000. With over 25 property tours within two weeks, we had a successful event achieving 99% of client's target price.
---
Private Country Estate on 37± Acres in Winnsboro, Texas
SOLD! This premier private country estate is a prime example of the auction benefits. Sellers choose us to take control of the sales process, they control the terms and the timing of their sale. All of our properties are sold for cash without any contingencies. The buyers for our properties are not limited by geography and can bid from any place in the world.   
---
"Stick Star Plantation"
SOLD!  Our auction marketing achieved 95% of the asking price for this 477± acre plantation. This premier recreational hunting preserve had over 50 in attendance auction day. Every campaign Target produces is specifically tailored for each property type and is promoted in a professional manner that attracts serious and qualified buyers. When selling large tracts of land, the auction benefits cannot be overlooked. 
---
Heritage Golf Course and Twin Oaks Clubhouse
SOLD!  Heritage Golf Course sold and all the real estate associated with it; the golf course, clubhouse, additional undeveloped acreage, and the developed homesites, we had a complete sell-out for this residential and commercial development property. The grand ballroom at the clubhouse was full and when all was completed, we had 4 separate purchasers. Our process was the only way for our client to sell all the inventory in a timely manner while achieving a fair price, likewise the purchasers are pleased as well.  
---
Doublehead Waterfront Lodge on Wilson Lake
SOLD. This Wilson Lake lodge property generated tremendous bidding activity which equaled tremendous results! The prime waterfront parcel price exceeded the seller's targeted minimum by a large margin, 136%. The seller managed his marketing efforts and timing by utilizing the auction method. Never underestimate the power of the gavel.
---
17 Smith Lake Lots in Poplar Ridge Subdivision
SOLD!  All available lots...17 residential lake lots in the Poplar Ridge at Hidden Falls waterfront subdivision were completely sold, another successful development closeout. We had buyers from 3 states competing for ownership. The seller stated he was very pleased with Target Auction Company and the results. "You guys are the pros, the property sold for more than I anticipated."
---
Alabaster Commercial Property
SOLD. Our commercial property sales have been very successful again this year as it has been with all real estate types. Commercial property client Dan L. Moultrie, entrepreneur (founder of Moultrie Products) and outdoor celebrity stated "you were able to get the price we wanted...it sold and closed in 90 days". There were 14 bidders competing for ownership of this property.   
---
Riverfront Equestrian Estate - Creston, NC
SOLD!   This immaculate 10± acre riverfront equestrian estate sold and closed for a very happy seller and buyer. The seller wanted to use the auction concept as a catalyst to generate interest and get this property sold in a timely manner. 
---
Jackson Point Properties
SOLD!  This Sewanee, TN residential development consisted of beautiful bluff & view tracts on top of the Cumberland Plateau. We had bidders from 3 states to help make this a complete sellout. The auction method eliminates unnecessary days on the market while achieving top value. 
---
Prime Commercial Waterfront Building on 8 Acres
SOLD!  Target generated 9 registered bidders for this commercial property and achieved 210% of the published reserve. Our auction process eliminates any guesswork in determining the asking price or market value. All speculation to value is put to rest. The results speak for themself and the seller was ecstatic. Desirable commercial properties demand the attention that a professional campaign creates.   
---
Smoky Mountain Collection
This multi-property auction brought in 33 bidders from 6 states and as a result achieved the seller's goals. We had a very successful auction and satisfied Seller. Auction marketing motivates buyers into action. Call us today to explore how a real estate auction can work for you.
---
"Bald H Farm"
Bald H Farm was sold bringing over $2,600 per acre. This beautiful 146± acre farm had an attendance of over 30 with 12 registered bidders competing for ownership. "Selling my farm at auction was the obvious choice when I considered the alternatives and I am pleased that I chose Target Auction Company for the job"  stated the seller.
---
Georgia Executive Retreat
This property sold via Absolute Auction and consisted of 66± acres with a home and lake. We generated 17 registered bidders with the purchaser coming from out of state. The benefit of an auction is that we use a real estate platform with a call to action. 
---
Bell Farm
SOLD!  This 101± acre farm property brought 103% of a recent appraisal. The motivation that was created by our marketing forced land buyers into action. We had 15 registered bidders competing for this prime farmland. After all was said and done, the true value of the farm was realized and the seller could not have been happier. 
---
Tuscaloosa Commercial Building
SOLD!   This commercial property sold and closed prior to the auction taking place. Another example of how a date certain event will force buyers to act. This was the second event we conducted for this seller and they have recommended us to several others. Call us today to discuss a marketing strategy for your commercial property.
---