FLIP EMPIRE Podcast: Disposing Your Real Estate Properties Via Auction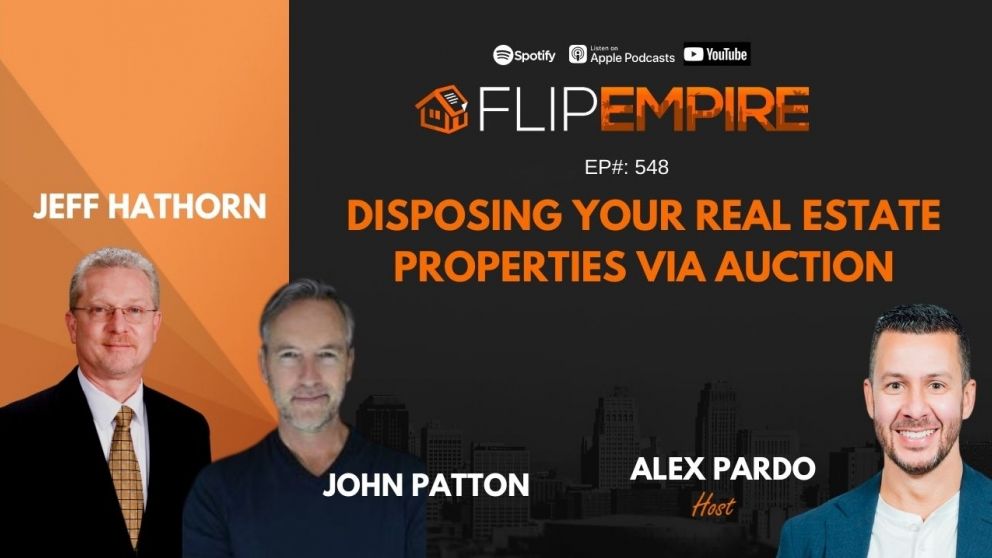 Listen to this episode

hosted by Alex Pardo with Jeff Hathorn, Vice President of Target Auction Company, and find out why auctions are a very valuable exit strategy for real estate investors and entrepreneurs.
By leveraging auctions, you can maximize your profits and get full results quickly and on your own terms.
_____________________________________________________________________________________
KEY TAKEAWAYS
In what cases should you use auction?

Effective marketing strategies in property disposal

Things to consider before going into an auction process

The emotional side in the bidding of an auction

Tips for picking the right auction house for you
_____________________________________________________________________________________
ABOUT JEFF HATHON
Jeff Hathorn is the Executive Vice President of Target Auction. For over 30 years, Mr. Hathorn has been in the real estate auction industry. During the past ten years, he has conducted auctions in 23 states. He has sold thousands of properties nationwide, including celebrity mansions, luxury condominiums, famous ranches, single-family homes, residential developments, acreage, commercial properties, and even yachts. This broad experience has enabled him to readily connect with sellers to evaluate the property being sold, identify the likely buyer profile, and develop a custom marketing plan to cost-effectively reach buyers for the property.
TWEETABLES
"We want our sales to be a win-win for both the seller and purchaser. It has to work for everyone." – Jeff Hathorn
ASCEND - Don't Wait To Enjoy Your Life, Tomorrow, Live It Today!
How To Grow Your Business, Expand Your Impact, and Experience Your Perfect Life:
LISTEN & SUBSCRIBE TO THE FLIP EMPIRE SHOW (PODCAST) on Apple Podcasts ▶︎ https://www.flipempire.com/podcast
How To Grow Your Business, Expand Your Impact, and Experience Your Perfect Life Don't Wait To Enjoy Your Life Tomorrow, Live It Today ▶︎ https://www.AscendYourSuccess.com/
FOLLOW ALEX ON:
★ INSTAGRAM → http://instagram.com/alexpardo25
★ FACEBOOK → https://www.facebook.com/alexpardo15
★ LINKEDIN → https://www.linkedin.com/in/alex-pardo
★ YOUTUBE → https://www.youtube.com/alexpardo
If you have a land property to sell, please give us at

Target Auction Company

an opportunity to review the advantages of the auction platform. We have been very successful in accomplishing our clients' goals since 1983. Contact us at 1-800-476-3939 and visit us at www.TargetAuction.com.
RESOURCES/LINKS MENTIONED
How to sell your home in 5 days by Bill G. Effros www.auction.com
Learn How to Maximize Your Profits via Auctions www.flipempire.com/auction
---